Updated to include the Vampire Counts from WarMag5
Here is an Excel 97 speadsheet that will help you to create army lists for Warmaster, it has the point details for all the armies in the rule book, as well as Magic Weapons, Devices of Power, Banners and Siege Equipment, however you will still need to refer to the rulebook or Warmaster Magazines concerning special rules for each army.
Instructions
Choose the the army you want to create from the tabs at the bottom of the workbook.
Enter the Point Base of the army you want to create.
Enter the quantity of each unit required, be sure to stick to the min/max values indicated (it is possible to create illegal armies)
Choose any Magic Weapons, Devices of Power and Banners by entering 1 in the relevent box (remember max of 1 of each per army)
If you are playing a Siege Game enter the number of each piece of Siege Equipment you want, only one piece of Siege Equipment per Infantry unit.
Print the sheet, it is set to fit exactly on an A4 (Landscape) page.
Each Spreadsheet in the workbook is password protected so that only certain cells can be edited, if you want to change the sheet simply copy all the cells and paste them into a blank sheet.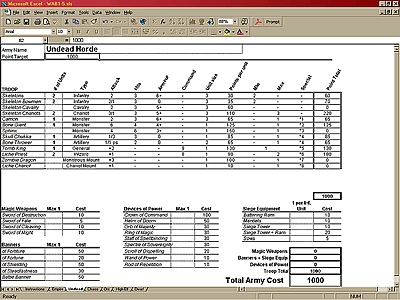 Screen shot of Warmaster Army Builder
Notes
Version 4.1
Download
WAB41xls.zip
(98k)
WAB41.xls
(71k)
Updates
If you have any ideas on improving the Warmaster Army Builder, please let me know.
History
v4.1 - Corrected Vampire Counts List
v4.0 - Added Vampire Counts Army from WarMag5
v3.0 - Added Brettonian Army from WarMag4
v2.0 - Corrected Typos, added Kislev Army from WarMag2
v1.5 - Corrected Typos, Corrected calculation for min/max totals, included Banners and Siege Equipement
v1.0 - Initial Release