Welcome to the Bulkington Wargaming Clubs (BWC) corner of the net. We hope you enjoy your stay.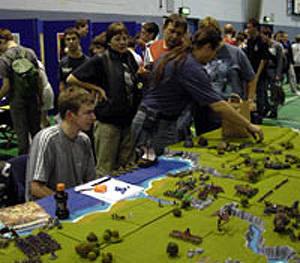 Bulkington Wargaiming Club at Games Day
Paul Shipman and Stephen Houston participate in our Warmaster Display at Games Day 2000.
The others involved Peter Houston, Kenneth Burwood, Ryan Blinco and John Perkins deftly avoided the camera.
Who are we?
The BWC, is a group of 23+ gamers who play tabletop miniature wargames.
What games do we play ?
The BWC does not limit itself to any particular games, but almost all of us are fans of Games Workshop's range of science fiction and fantasy settings. So, most people will be playing Warhammer, Warhammer 40K or Warmaster. We also play Bloodbowl, Necromunda, Mordheim and Battlefleet Gothic, among others. For more information on the games we play refer to the Club section.
Where do we meet?
The BWC is based in Bulkington (obviously), Warwickshire, not far from Coventry. We meet in the Bulkington Village Centre, which is next to the Library. A Map is available along with more detailed directions.
When do we meet?
Every Wednesday from 6:00 pm to 10:00 pm, excluding Christmas and New Year.
Do you have to be a member ?
No, anyone can come along to the meetings. Your first visit is free, and thereafter there is a charge of £1.50 per meeting. This includes entry to the Club and use of our gaming tables, terrain, etc. The Club is independent and non profit-making. All proceeds go into Club funds which are used to buy more terrain and other equipment, and to fund events. There is no membership fee as such. To become a member you must attend at least half the meetings - see the club rules for further details. Members get special benefits and prizes, which are announced at the club.
How old do you have to be?
You have to be 10 years or older, or be at high school to come to the club. Younger gamers may be allowed, please talk to the Club Secretary about this.
What you can't do?

We have a few rules to make the Club safe and comfortable for everyone. You can't smoke or drink alcohol on Club premises, or use modelling knives. Other than that you can do what you like, provided it doesn't spoil anyone else's enjoyment of the Club. For more information on these and other matters, see the Club Rules
---
We hope you find this site interesting, and if you are a member of the club you will find it useful for organising games and keeping in touch with other members.
Here is a brief overview of what you can expect to find here.
CLUB - This section will explain what games are played, how to find use (including a map), and the club rules.

MEMBERS - The Rogues Gallery - An introduction to some of the people you can expect to meet.

EVENTS - Here you will find details of games, leagues or tournaments that have been organised, along with details of how you can join in.

ARTICLES - Various articles written by club members, including Campaign Rules, Mordheim Warbands, Army Creation Utilities, etc.

GALLERY - Photographs of games, miniatures, terrain etc, at the BWC.

FORUM - A discussion forum, primarily for members to arrange meetings, games and discuss the wargaming hobby. However, other relevant messages are welcome. You can also comment on this site here.

LINKS - Some links that may be of interest to the Wargamer.

SITE MAP - Quick links to all the pages on the site.

CLUB NEWS - Find out what's been going on at the club.

Battle Fleet Gothic
Thankyou for visiting, and we hope to see you at the Bulkington Wargaming Club.
You can contact us at bulkington.wargaming.club@mail.com, there is an e-mail link at the bottom left of every page.
When Bookmarking or Linking to this site please use the following URL, it forwards to this site. This ensures that if we change our host server you will still be able to find us.
Last Update
14-Oct-2001
See What's New

Club News
Find out what's been going on at the club.
BWC
Members
We could do with some artwork, or photographs for the site. If you have any original artwork (your own work), or have any pictures of figures you have painted and would like them shown here, then please let me know.
Remember that this is your site, it's up to you to supply the content.
Mailing List for
Members Only
If you attend the club why not join our mailing list.



Click to subscribe to BWC
moderated
subscription
Link to Us
You can use this Logo if you want to link to this site.